Resources
If you're planning on selling or renting your home on our website it for you FREE, we promise you the best professional service and QUICK results. Commission paid due only if we introduce our buyer and a sale is consummated.
Broker's fee covers:
Gathering information on the property, inc. taking photos etc.
Advertising on Internet: on our own web site as well as on real estate portals in Europe and Thailand
Working with all involved documents: verifying, checking as well as making sure these are done with accordance to laws.
Introducing, showing the property to the client at our own cost.
Pricelist
Sales brokerage:
Below 1,000,000 Baht 7%
1,000,000 to 9,000,000 Baht 5%
over 9,000,000 are agreed beforehand of total value of the case.
Paid by property owner
Rent brokerage:
On signing of agreement for long term (one year) rent our fee is one month rent value
On short term rent agreements our fee is on mutual consent but not less than 2,000 THB.
Paid by landlord
Other:
Starting a company: 40,000 THB
Holding of a company: 20,000 THB per year
Consulting Fees: First 30 minutes for free 1 hour and forward 2,000 THB per hour
Inspections and other services (check-in, check-out) which has been done out of our office hours or on Sunday will be charged extra 2,000 baht.
Registering the change of ownership at the registry office of real estate: 20,000 THB (waived if you sign the deal through us)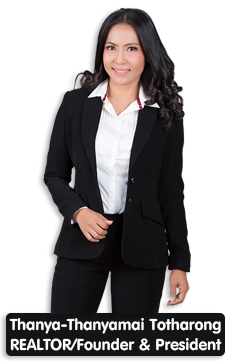 085 2288911 Eng, Thai